On the day you shop
Wedding dress shopping is SO FUN but stressful and very tiring. We don't recommend that you book any more than 1-2 appointments total for one day. Be sure your hydrated and have eaten well that day too.
Before you shop
Look through our designers page, and our designers websites, to get a good idea of our shop's collection and price points. We love when bride's come with pictures, or Pinterest pages, to show your stylist what you are looking for. Have that conversation about budget with whomever you need to before you come. Remember also that alterations are not included in the price of the gown, so keep that in mind while budgeting. Our gowns currently range from $1,000-$4,000.
Who to bring
We have different guest # allowances depending on which appointment type you book. Trust us on this one, you'll really only want to bring the few people who you know will be supportive, insightful, and get your style.
It's a great idea to discuss these things, maybe over a happy hour, or maybe brunch, with those who are going to accompany you to your appointment. This way, you can hit the ground running at the start of your appointment.
You're in the shop, now what?
Each appointment will have their own personal stylist. Our gals are the best at getting creative and listening to the vision you have in mind. Once they greet you, your stylist can take you over to our mimosa bar, and we will provide a round of complimentary signature mimosas, with flavors changing each month. Then you'll get a chance to peruse our curated collection of designer gowns while your stylist helps you all along the way. Remember, our gowns are sample sizes, varying from sizes typically 8-26. We have some tools and tricks to make sure a gown can fit you so you can really see what one in your actual size would fit like. A majority of our gowns are orderable for sizes 0-34.
What to bring
To keep our sample dresses absolutely clean and flawless, please do not wear any perfume, lotion, or heavy makeup.
You'll want to feel beautiful and confident while you try on, so consider just light makeup and an easy hairstyle similar to what you envision wearing on your wedding day. If you have heirloom accessories, like your mother's veil, or your grandmother's earrings, bring those along to try on with gowns too!
Bring your own shapewear, like Spanx, or other nude underwear if thats what you plan to wear. We do not allow outside food or drinks.
Sizing
Bridal gowns typically run 2-4 sizes higher than maybe the clothes you have at home. It might shock you or seem frustrating, but these numbers are really just for our stylists.
When you are ordering a dress, we STRONGLY recommend ordering a dress for the size you are at the time of ordering. Its much easier to take a dress in than it is to let it out.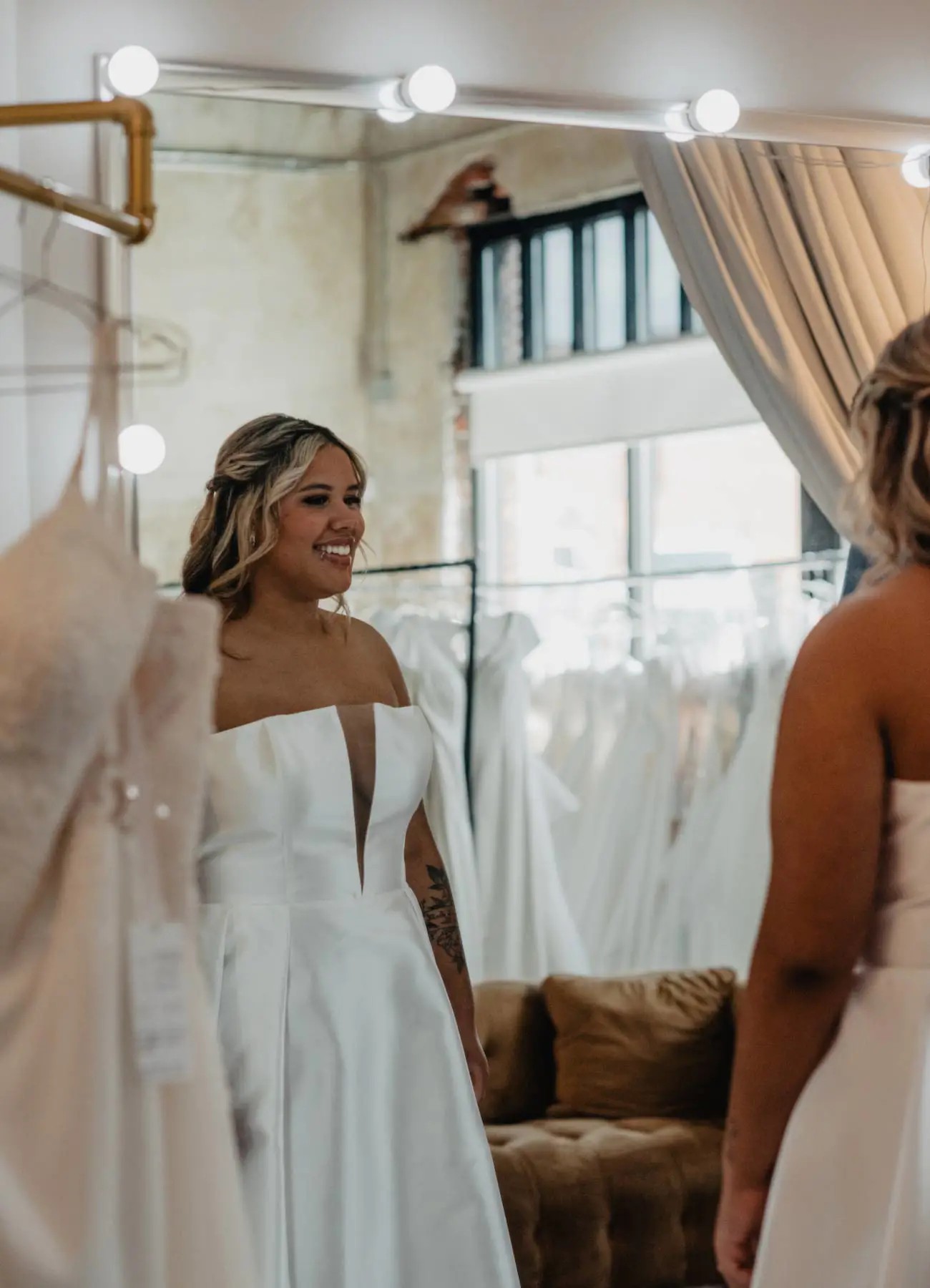 Overwhelmed, frustrated, and maybe didn't find the dress at your first appointment?
This might happen for a few key reasons.
1) You hadn't really narrowed down what you were looking for yet. Solution: Go back and really starting looking at websites, wedding photography, or Pinterest to get a better idea. Look back at the photos of your favorite gowns and analyze which ones you keep looking at your self in the longest. We recommend you book a Second Appointment at the end of your first appointment with us. About 1-2 weeks later is perfect.
2) You and your family disagrees, thus confusing the heck out of you. Solution: We are always unequivocally TEAM BRIDE. Your wedding is a celebration of you. We think a bride should wear the exact dress SHE wants. This means a tough and honest conversation is warranted with those that might disagree with you. Stand up for yourself! You don't want to look back and realize your dress is appeasing others and doesn't make you truly happy. We also recommend that you book a Second Appointment and just bring back with you those that are ultimately unconditionally supportive of you.
3) You just cannot decide between two gowns during your appointment and want to sleep on it. Impulse buys are not your thing. Solution: We totally get this situation too. Some women really want to think about it. We suggest scheduling another appointment with us right away so that you give yourself a definitive timeline to mull it over. Real talk-you do really need to keep in mind your overall timeline. We strongly recommend women shopping for the dress 10-12 months before the wedding to allow time for the dress to be made, shipped, and altered. It is quite the process. There are rush shipping options, but not on all dresses all the time.
Coming here ready to buy
This is not some cheesy sales ploy, but we really do think it's beneficial for our brides if they come into their appointment ready to buy. Why? It's so easy to be overwhelmed if you haven't done your homework or really narrowed down your vision. Hopefully, just looking at our designers and our website can help you decide if our shop fits your style. Oh how we love the sweet internet and Pinterest that allows our brides to have millions of styles at their fingertips. When prepared, you'd be surprised how often a bride purchases one of the first dresses she tries on at our shop.
Sometimes less is more; so, if you come with a vision and style in mind and we can show you the specific dresses in your price range, color, and style. Then we've just got to find you your perfect wedding dress that you'll wear to marry the love of your life (goose bumps.)
P.S. We do offer a cash/check discount if you chose to pay with one of these methods and avoid our credit/debit card processing fee.
We require a minimum 50% deposit to purchase the gown and the remaining balance is due at the time your gown arrives and is ready to be picked up.
A 'bridal moment'
Don't use what you've seen on TV shows, (i.e., the over-the-top emotional reactions, crying, and tissues galore) to be the #1 gauge for whether or not you decide to buy a gown. Don't get us wrong, we love this and definitely keep plenty of tissues on hand, but it doesn't always work out that way. And that's not a bad thing. It may just be a really warm, positive vibe you get in a dress, where you feel beautiful, comfortable, and confident. You might not be a crying type of person, and who cares! That doesn't make it any less special of a moment. We just want YOU to feel like YOU.
we can't wait to meet you!